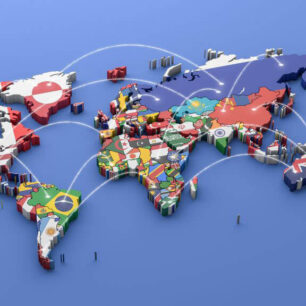 Türkiye'de Avrupa ve Avrupa Birliği Algısı Araştırması
The results of "Public Perceptions on Europe and the European Union in Turkey", conducted under the oversight of Prof. Mustafa Aydın, Coordinator of the Global Academy and Professor at Kadir Has University, are released.
The fieldwork for "Public Perceptions on Europe and the European Union in Turkey", which was prepared with the partnership between the International Relations Council of Turkey, Global Academy and the Jean Monnet Chair on Hybrid Threats in the EU and supported by the Friedrich Naumann Foundation's Representation in Turkey, was carried out between August 18 and September 27, 2022, by Akademetre Research and Strategic Planning.
According to the study, conducted through face-to-face interviews with 1.000 people over the age of 18 and living in 26 provinces representative of Turkey, 56.4% believe cooperation with European countries is vital for Turkey's security, Germany, Italy, and the UK have ranked as the three most trusted European countries.
Türkiye'de Avrupa ve Avrupa Birliği Algılarına İlişkin araştırmanın akademik çerçevesi Global Academy Türkiye Çalışmaları Grubu tarafından hazırlanmış, Friedrich Naumann Özgürlük Vakfı Türkiye Temsilciliği'nin desteğiyle Akademetre Araştırma ve Stratejik Planlama tarafından saha çalışmaları yapılmıştır. Araştırmanın yönetim, araştırma ve raporlama ekibi aşağıdaki şekilde oluşturulmuştur:
Proje Koordinatörü: Prof. Dr. Mustafa Aydın
Proje Asistanı: Sezen Kaya Sönmez
Akademetre Proje Ekibi
Stratejik Planlama Uzmanı: Dr. Halil İ. Zeytin
Kalitatif Proje Koordinatörü: Buse Var
Kantitatif Proje Uzmanı: Türkan Gözgöz, Şeyda Aydın, Nagehan Yapıcı
Üretim Uzmanı: Ercan Balcı, Erkan Yıldırım
Veri İşlem Sorumlusu: Batuhan Yeşilyurt
Veri Kontrol & Raporlaştırma: Enis Can Bıyık, Esna Uğurlu, Selen Sevcan, Rana Ören, Bensu Desen Kıvrak
Araştırma; İBBS Düzey-2'yi temsil eden 26 ilde (Adana, Ağrı, Ankara, Antalya, Aydın, Balıkesir, Bursa, Erzurum, Gaziantep, Hatay, İstanbul, İzmir, Kastamonu, Kayseri, Kırıkkale, Kocaeli, Konya, Malatya, Manisa, Mardin, Samsun, Şanlıurfa, Tekirdağ, Trabzon, Zonguldak ve Van) gerçekleştirildi.